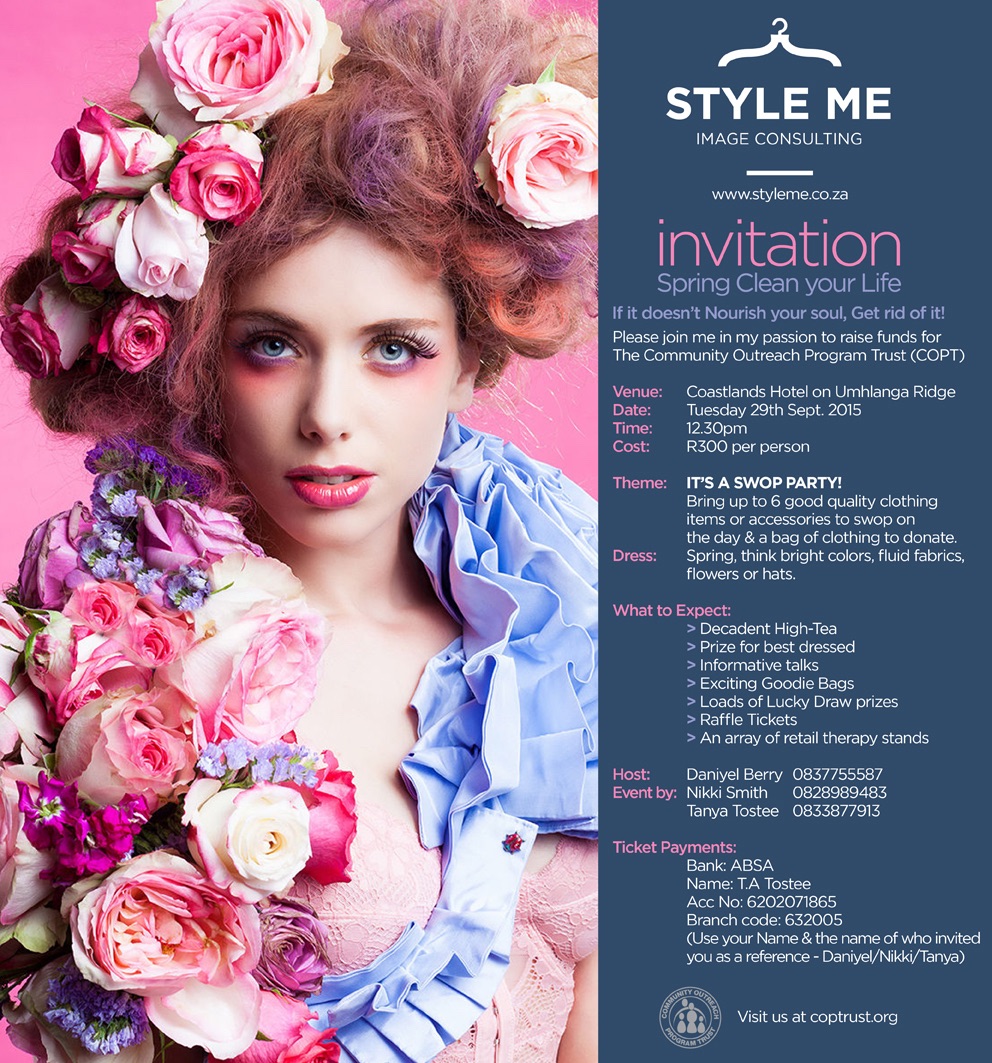 On the 29th of September at 12.30pm the Coastlands Hotel in Umhlanga will be abuzz with the sound of excited shrieks as ladies swop clothing! I have already booked for this event, so join me and don't miss Style Me's first swop party.
The cost is R300 per person and all funds raised will go to COPT. Guests are encouraged to bring six items of good quality clothing or accessories to swop on the day, PLUS a bag of clothing to donate to COPT. But you can attend even if you don't have anything to swop (as Daniyel recently audited my wardrobe, I doubt I will have much to swop or donate)!
The dress code is 'Spring' – think bright colours, fluid fabrics, flowers or hats – and there will be a prize for the best dressed! Guests will enjoy a decadent high tea, informative talks, exciting goodie bags, lucky draw prizes, raffle tickets and an array of retail therapy stands.
COPT is a faith based non-profit organisation that provides an opportunity for businesses and ordinary South Africans to make a lasting and meaningful difference to the lives of their fellow citizens. Their website states: "Whatever our status, our creed, our race, we are compelled to do what we can to help the most vulnerable and disadvantaged of our people. Ours is not to solve, but to resolve to make a difference, because changing lives is life changing." For more information on COPT visit www.coptrust.org.
COPT is about feeding, clothing, caring and educating the underprivileged. With the clothing donated at this event they will be helping the underprivileged to start up small businesses to sell the clothing in order to make a living.
Booking and payment must be done by 14 September.
Contact Daniyel Berry on 083 775 5587, Nikki Smith on 082 898 9483 or Tanya Tostee on 083 387 7913. For more information visit www.styleme.co.za.
XXX
Alice Leah
031 – 573 1731 (ext 5)
editor@mumsmail.com
www.mumsmail.com